Tokyo: Japanese Prime Minister Fumio Kishida made a brief visit to the tsunami-wrecked Fukushima nuclear plant on Sunday to highlight the safety of an impending release of treated radioactive wastewater into the Pacific Ocean, a divisive plan that his government wants to start soon despite protests at home and abroad.
His trip comes hours after he returned home on Saturday from a summit with US and South Korean leaders at the American presidential retreat of Camp David. Before leaving Washington on Friday, Kishida said it is time to make a decision on the treated water's release date, which has not been set due to the plan's controversy.
The government, since it announced the release plan two years ago, has faced strong opposition from Japanese fishing organisations, which worry about further damage to the reputation of their seafood as they struggle to recover from the accident. Groups in South Korea and China have also raised concerns, turning it into a political and diplomatic issue.
The government and the plant operator, Tokyo Electric Power Co. (TEPCO), say the water must be removed to make room for the plant's decommissioning and to prevent accidental leaks from the tanks because much of the water is still contaminated and needs further treatment.
Japan has obtained support from the International Atomic Energy Agency (IAEA) to improve transparency and credibility and to ensure the plan by TEPCO meets international safety standards. The government has also stepped up a campaign promoting the plan's safety at home and through diplomatic channels.
IAEA, in a final report in July, concluded that the TEPCO plan, if conducted strictly as designed, will cause negligible impact on the environment and human health, encouraging Japan to proceed.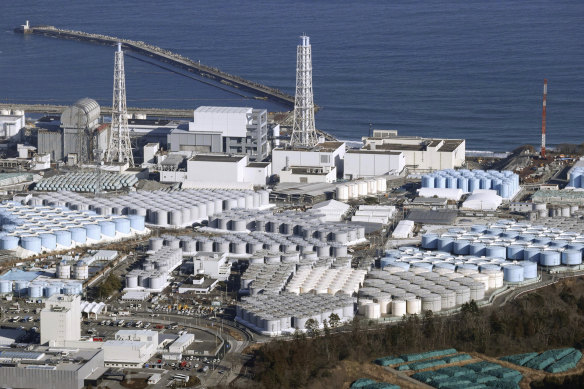 Kishida told reporters after Sunday's plant visit that he hoped to meet with the head of the national fisheries organisation on Monday before his ministers decide the date at a meeting next week, Kyodo News agency reported. Kishida did not mention a starting date for the water release, which is widely expected to be at the end of August.
During his visit on Sunday, Kishida saw wastewater filtering and dilution facilities and met with TEPCO president Tomoaki Kobayakawa and other top officials. He urged the officials to prioritise safety in the release and help prevent reputational damage to local fisheries, Kyodo said.