ICE said its Enforcement and Removal Operations (ERO) in Boston arrested a Brazilian fugitive wanted for aggravated homicide last week, after a nearly two-year search.
ICE said in a press release that ERO officers apprehended the fugitive in Boston, Massachusetts on an active criminal warrant for the charge of aggravated homicide, which the man is accused of committing in Brazil.
"This fugitive has been accused of a heinous crime in his native country of Brazil and attempted to evade justice by hiding in Everett, Massachusetts," ERO Boston Field Office Director Todd Lyons said. "The men and women of ERO Boston ensure foreign fugitives will not find refuge from their alleged crimes here in the Commonwealth of Massachusetts. I am proud of my officers and the work that they do every day to provide for the safety and security of others in our communities."
TEXAS POLICE ARREST MAN FOR HUMAN SMUGGLING AFTER FINDING HOUSE STASH WITH 46 MIGRANTS
The agency did not identify the man but said the U.S. Customs and Border Protection apprehended him in August 2021 near Otak Mesa, California, after he was suspected of entering the country illegally.
The man was released on his own recognizance and issued a Notice to Appear after charging him with inadmissibility.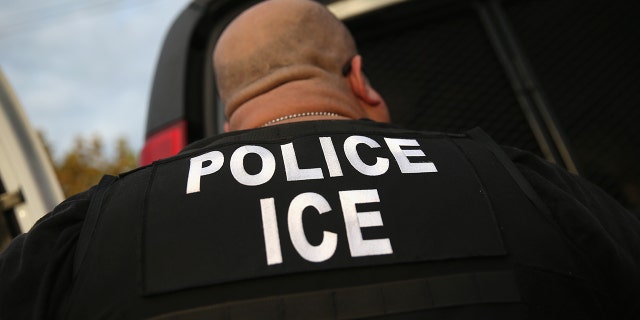 Following the man's release, a criminal court in Governador Valadares, a city in the Brazilian state of Minas Gerais, issued a warrant for the man's arrest.
SENS. MARSHALL, HAGERTY DEMAND INFO ON DHS PROGRAM OVERSEEN BY GROUP THAT BACKS DEFUNDING ICE
The man will remain in ICE custody pending a hearing which will be scheduled with the Department of Justice's Executive Office for Immigration Review, according to the press release.
In 2022, 46,496 noncitizens with criminal histories were arrested by ERO. Those arrested had 198,498 charges and convictions, including 21,531 assault offenses, 8,164 sexual and sexual assault offenses, 5,554 weapons offenses, 1,501 homicide-related offenses, and 1,114 kidnapping offenses.
CLICK HERE TO GET THE FOX NEWS APP
As a part of ICE, ERO focuses on public safety threats like noncitizens who are convicted criminals or gang members and have violated immigration laws in the U.S.