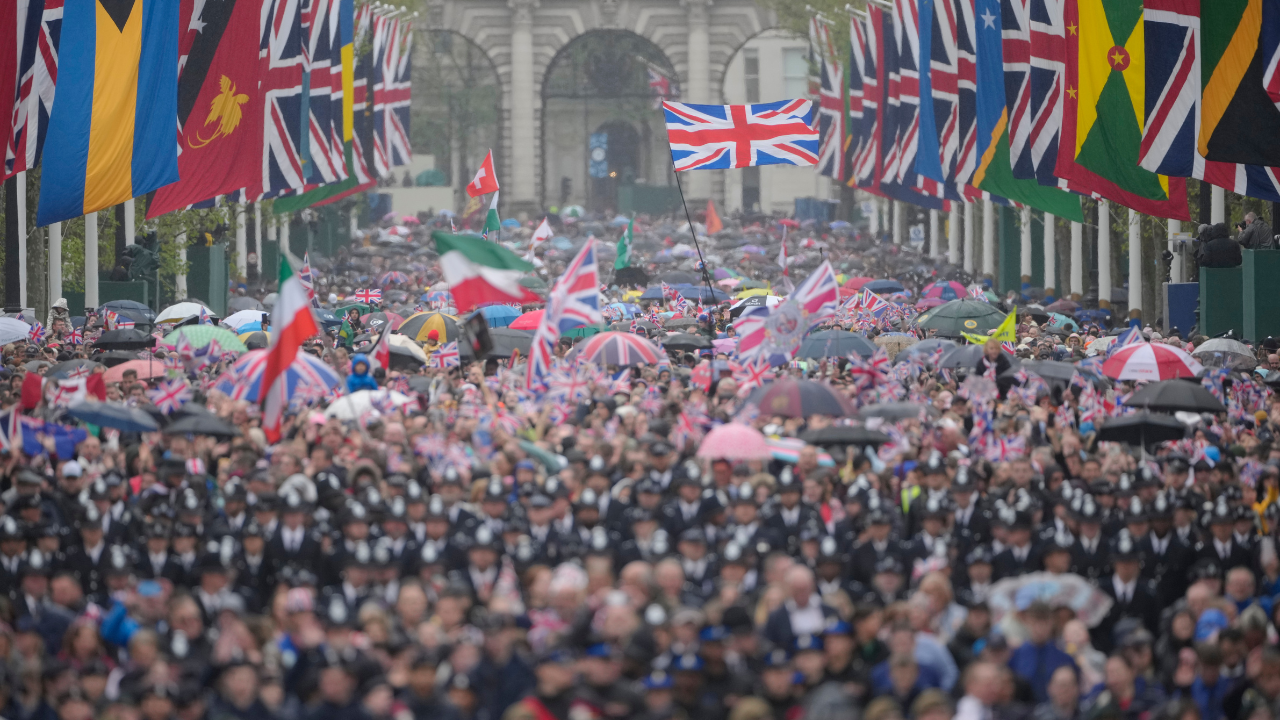 LONDON: Britain on Sunday celebrates the coronation of King Charles III and Queen Camilla with street parties around the country and a concert at Windsor Castle.
Following Saturday's glittering ceremony at London's Westminster Abbey featuring royalty and leaders from around the world, the emphasis shifted to a chance for the public to mark the "Carolean" age after Queen Elizabeth II's 70-year reign.
The medieval majesty of the coronation ceremony has its roots in the England of 1066 but the "Big Lunch" parties look to bring 21st-century Britain's diverse communities closer together.
Monday has been declared a public holiday — meaning people can let loose on Sunday without having to worry about a hangover.
Charles and Camilla hope the long weekend "will provide an opportunity to spend time and celebrate with friends, families and communities", Buckingham Palace said.
After the post-World War II hardships, street parties were a major feature of Elizabeth's coronation in 1953 — and a memorable part of celebrations for her long reign in 1977 and last year.
The Big Lunch is an attempt to keep alive that more neighbourly spirit.
'Celebration and friendship'
"From a cup of tea with a neighbour to a street party, a Coronation Big Lunch brings the celebrations to your neighbourhood and is a great way to get to know your community a little better," Buckingham Palace said.
It is likely to see multiple hit-and-miss attempts at making Coronation Quiche — the specially created baked savoury tart featuring spinach, broad beans and tarragon.
The king's sister, Princess Anne, was due to attend a community street party in Windsor, west of London, while his nieces Princesses Beatrice and Eugenie — Prince Andrew's daughters — will attend a big lunch in the same royal town.
Prime Minister Rishi Sunak will host a lunch at his 10 Downing Street office and residence, inviting in community volunteers and Ukrainian refugees.
"People are marking this momentous occasion in the spirit of unity and hope for the future," he said.
Stars and lights
Take That, Lionel Richie and Katy Perry are among the stars performing on the East Lawn at Windsor Castle, with 20,000 people set to attend.
The show will hark back to the June 2022 Platinum Jubilee celebrations to mark Elizabeth's record 70 years on the throne, just three months before her death at the age of 96.
Welsh bass-baritone Bryn Terfel — who sang during the coronation service — will also be performing, along with Chinese pianist Lang Lang, Andrea Bocelli, Paloma Faith and Nicole Scherzinger.
Hollywood star Tom Cruise, actress Joan Collins, adventurer Bear Grylls and singer Tom Jones will appear via video message.
The Royal Ballet, the Royal Opera, the Royal Shakespeare Company, the Royal College of Music and the Royal College of Art will come together for a one-off performance.
Buckingham Palace said the centrepiece would be "Lighting up the Nation", in which well-known locations across Britain will be lit up using projections, lasers, drone displays and illuminations.
They include the seafront at Blackpool, Sheffield's Peace Gardens, the Eden Project nature park in Cornwall and the Tyne Bridge in Newcastle.
Ancient symbolism
Charles was crowned monarch of the United Kingdom and 14 other Commonwealth realms on Saturday, during a ceremony steeped in a millennium of ritual and spectacle.
After a lifetime as the heir to Queen Elizabeth, the 74-year-old became the oldest sovereign ever crowned at Westminster Abbey.
Justin Welby, the Archbishop of Canterbury, placed the solid gold Saint Edward's Crown on Charles's head as a sacred and ancient symbol of the monarch's authority.
Welby also crowned Queen Camilla, the king's wife of 18 years.
Cries of "God Save the King" rang out from the 2,300-member congregation.
Trumpet fanfare sounded along with gun salutes across Britain and beyond.
Returning to Buckingham Palace in the day's second horse-drawn parade, the royal family appeared on the balcony to applause and more chants of approbation from tens of thousands of well-wishers braving a spring downpour.