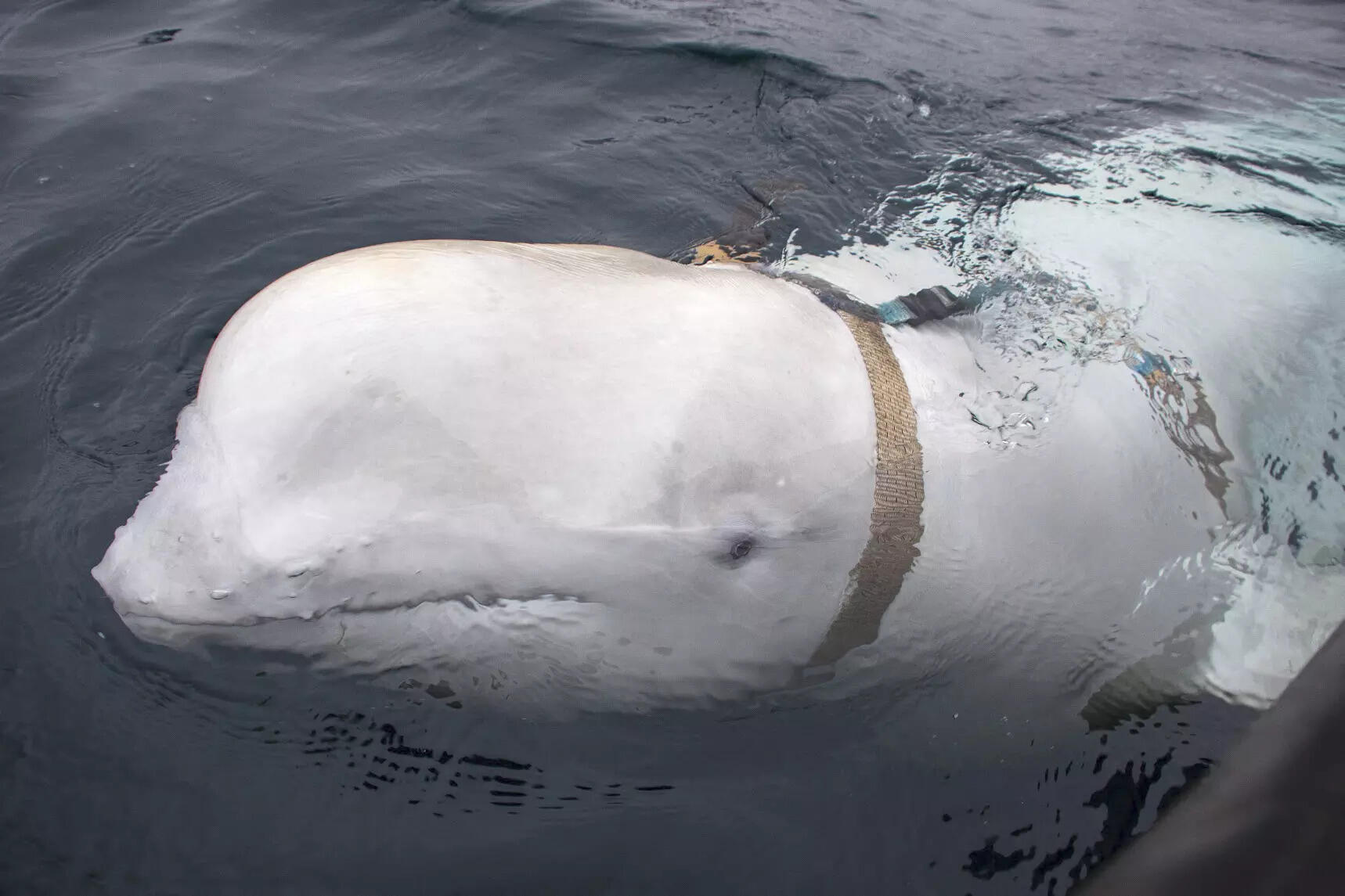 A Beluga whale wearing a harness, which caused speculation in 2019 that it was a spy trained by the Russian navy, has now been spotted off the coast of Sweden, according to a monitoring organization on Monday.
The whale, which is believed to be 13-14 years old, was first spotted in Norway's far northern region of Finnmark in April 2019. It was wearing a harness with the words "Equipment St. Petersburg" printed on it, leading to speculation that it had been trained by the Russian navy.
Initially discovered in Finnmark, a region in far northern Norway, the whale gradually made its way down the Norwegian coastline over a period of more than three years. However, in recent months, it has picked up its pace and covered the remaining stretch, reaching Sweden.
On Sunday, the whale was observed in Hunnebostrand, located off Sweden's southwestern coast.
Sebastian Strand, a marine biologist with the organization OneWhale, told AFP that it is unclear why the whale has suddenly accelerated its movements, especially since it is now venturing far away from its natural habitat. He suggested that it could be driven by hormones, as the whale is at an age where hormone levels are high, or it might be motivated by the search for a mate or companionship with other Beluga whales, as they are social creatures.
Strand pointed out that the closest population of Belugas is located in the Svalbard archipelago in far northern Norway. Since arriving in Norway in April 2019, the whale has not encountered a single Beluga.
Nicknamed "Hvaldimir" by Norwegians, which is a play on the Norwegian word for whale, "hval," and a reference to its alleged connection to Russia, the Beluga was found wearing a harness when it first appeared in Norway's Arctic. Marine biologists from the Norwegian Directorate of Fisheries removed the harness, which had a mount suitable for an action camera and the words "Equipment St. Petersburg" printed on the plastic clasps. Speculation arose that the whale may have escaped from an enclosure and possibly been trained by the Russian navy, as it seemed comfortable around humans.
However, Moscow never officially responded to the Norwegian speculation suggesting the Beluga could be a "Russian spy."
The Barents Sea, where the Beluga was found, holds significant geopolitical importance as it is an area where Western and Russian submarine activities are monitored. Additionally, it serves as the gateway to the Northern Route, which shortens maritime journeys between the Atlantic and Pacific oceans.
Beluga whales, known to grow up to six meters (20 feet) in length and live for 40 to 60 years, typically inhabit the icy waters around Greenland, northern Norway, and Russia.