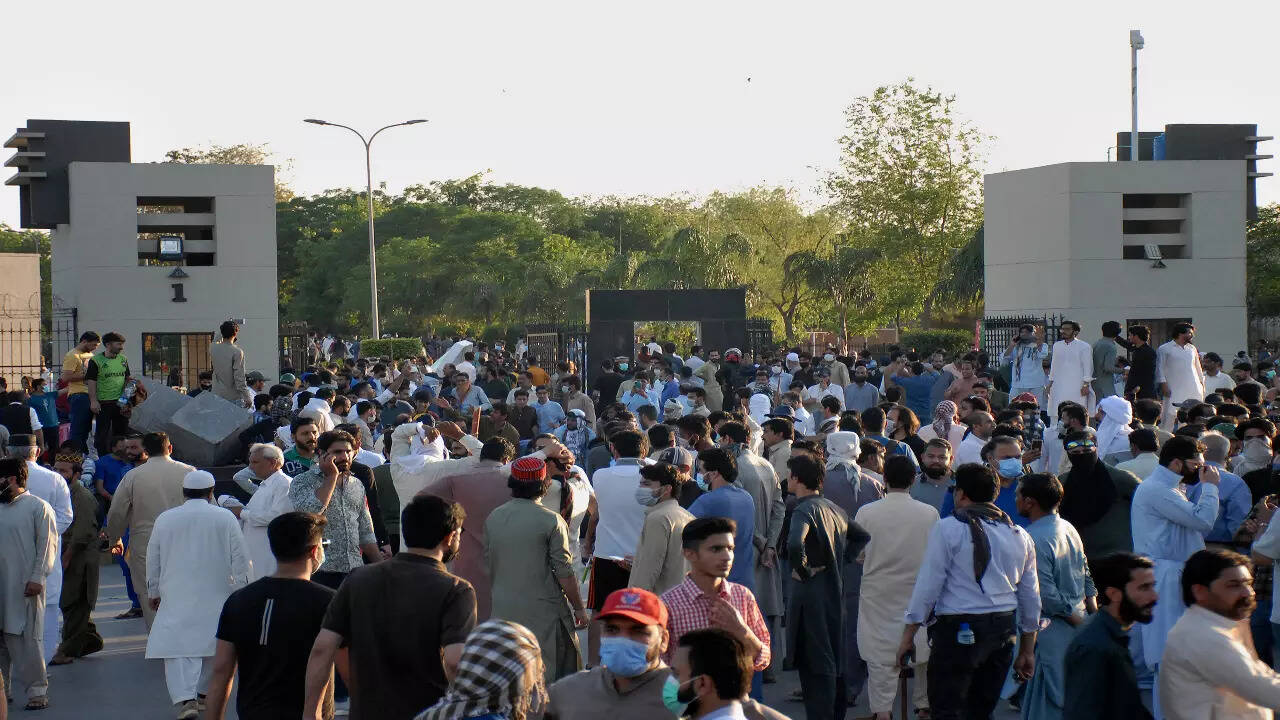 LAHORE/ISLAMABAD: In unprecedented scenes, supporters of former prime minister
Imran Khan
on Tuesday stormed the Pakistan army headquarters in the garrison city of Rawalpindi and the Corps Commander's residence in Lahore after his dramatic arrest in a corruption case.
Khan, who travelled from Lahore to the federal capital Islamabad, was undergoing a biometric process at the Islamabad high court when the paramilitary Rangers broke open the glass window and arrested him after beating lawyers and Khan's security staff.
The arrest of the 70-year-old Pakistan Tehreek-e-Insaf chairman comes a day after the powerful army accused him of levelling baseless allegations against a senior officer of the spy agency ISI.
As the news of his arrest by the Rangers spread, massive protests broke out in several cities across Pakistan. Protesters at several places turned violent and burned police vehicles and damaged public property.
The Rangers, which operate under the interior ministry, are usually commanded by officers on secondment from the army.
For the first time, Khan's supporters smashed the main gate of the army's sprawling headquarters in Rawalpindi, where troops exercised restraint. The protesters chanted slogans against the establishment.
In Lahore, a large number of PTI workers stormed into the Corps Commander Lahore residence and smashed the gate and window-panes. The army personnel present on duty there, however, did not try to stop the enraged protesters who surrounded them and chanted slogans against the 'handlers' of the PML-N led government in the military establishment. The protesters held a demonstration in the Cantonment area.
Lahore was virtually cut off from the rest of the province because of the protest on main roads including the entry and exit points.
The caretaker Punjab government called the Rangers to control the law-and-order situation in the most populous province and imposed section 144 under which not more than five people can gather at one point.
According to the home department, the ban on gatherings will remain in place for two days.
The Punjab government also requested the Pakistan Telecommunication Authority to suspend Internet and mobile services in the areas of the province where violent protests took place.
A large number of PTI workers also pelted stones at the residence of Interior Minister Rana Sanaullah in Faisalabad city. Similarly, protests were held in Multan, Jhang, Gujranwala, Sheikhupura, Kasur, Khanewal, Vehari, Gujranwala, Hafizabad and Gujrat cities.