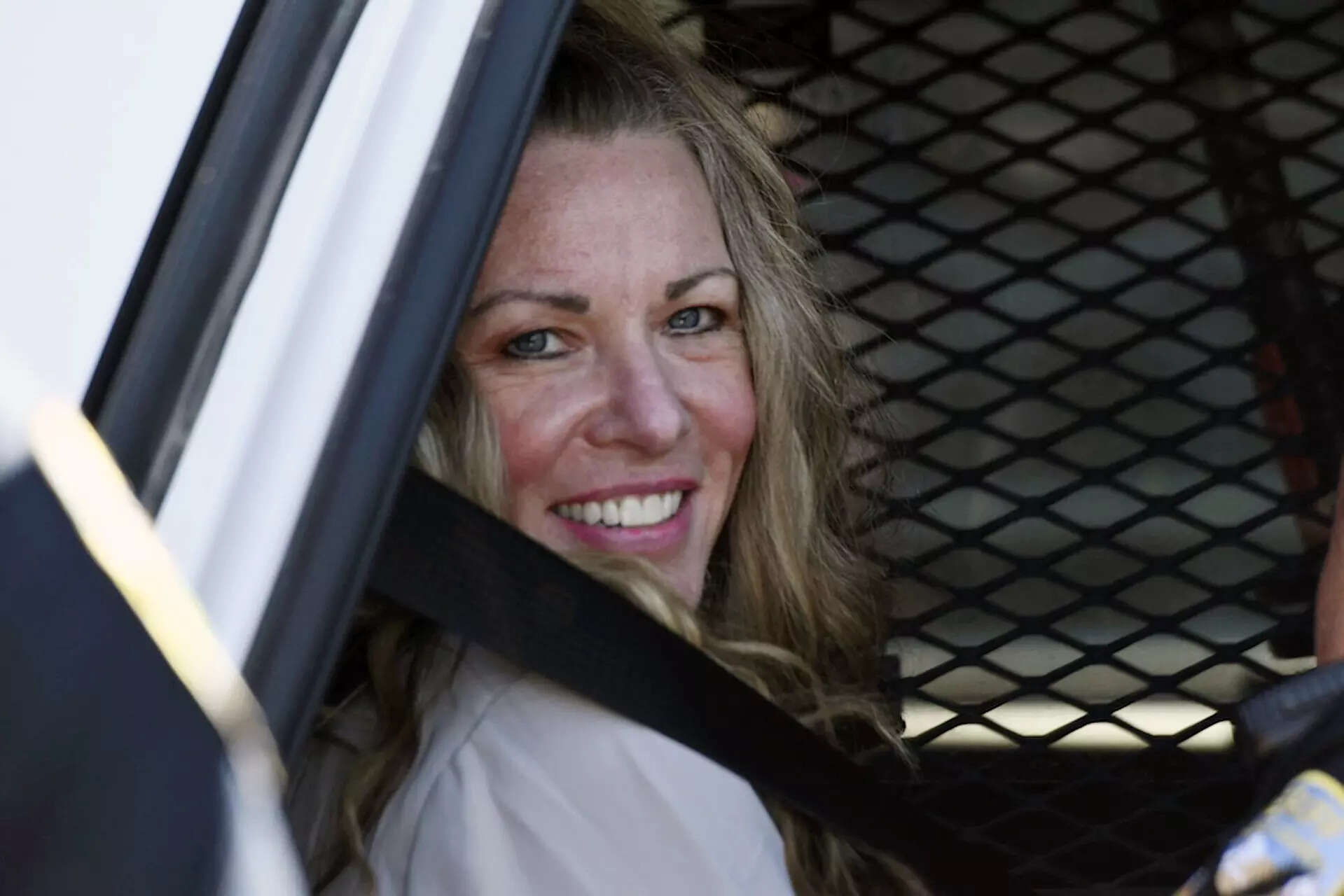 BOISE: Idaho mother Lori Vallow Daybell was convicted Friday in the murders of her two youngest children and a romantic rival, a verdict that culminates a three-year investigation that included bizarre claims that her son and daughter were zombies and she was a goddess sent to usher in the Biblical apocalypse.
For the victims' family members, the verdict is only a temporary balm: Vallow Daybell must be sentenced, and her fifth husband, Chad Daybell, is awaiting trial on the same murder charges. Vallow Daybell herself is also facing another murder trial in Arizona — this one on a charge of conspiring to kill her fourth husband, Charles Vallow.
"This isn't the end. Ninety days from today, we will be in Fremont County" for Vallow Daybell's sentencing, said Larry Woodcock, the grandfather of the youngest victim. "And I will say, 'Why, Lori? Why?'"
Prosecutors in the case described Vallow Daybell as a power-hungry manipulator who would kill her two youngest children for money, while the defense team said she was a normally protective mother who fell under the romantic sway of a wannabe cult leader.
The jurors sided with the prosecution, convicting Vallow Daybell of conspiring to commit the murders of 7-year-old Joshua "JJ" Vallow, 16-year-old Tylee Ryan, and Tammy Daybell. She was also convicted of grand theft as well as first-degree murder of the two children, a charge that indicates a more direct role in the crimes.
JJ's grandparents, Larry and Kay Woodcock, held an emotional news conference after the conviction. When they first stepped outside court, the crowd of onlookers who had gathered to support the family and watch the verdict cheered. Some began singing, "We Will Rock You" — JJ's favorite song.
"JJ, I love you. Papa wishes you were here," Larry Woodcock said, choking up as he used the name JJ used to call him. "Tylee, Papa loves you. Tammy, I never met you, but you are part of our life. I am sorry for what happened."
Asked if he had a message for Vallow Daybell, Woodcock recited the lyrics to a Willie Nelson song.
"Turn off the lights, the party's over. They say that all good things must end," he sang, before returning to speaking. "Lori, it ended."
He also thanked the jurors, noting that the graphic evidence they had to view was "mindboggling," and something that could never be unseen.
The Tammy Douglas Daybell Foundation, created by her family members a year after her death, wrote in a press release that the verdict would bring "some measure of closure" for everyone. Tammy Daybell was a school librarian, and the foundation works to raise money for libraries and literacy programs in Idaho and Utah.
"We love you Tammy. You will never be forgotten," the foundation wrote in a Twitter post. "The road is long, but we're grateful this chapter is closed."
Prosecutors said they were not able to comment on the verdict because of pending charges against Chad Daybell. In a statement, they thanked jurors for their service and said they "remain committed to pursuing justice for Tylee Ryan, JJ Vallow and Tammy Daybell."
Vallow Daybell wanted the victims' money, so she used sex and power to manipulate her brother and her lover into carrying out the crimes, Madison County Prosecutor Rob Wood told jurors during closing arguments.
" Money, power and sex," Wood said, reprising the arguments his team made at the start of the trial. He claimed Vallow Daybell considered the three victims nothing more than obstacles to her goals.
"What does justice for these victims require? It requires a conviction on each and every count," Wood said.
Defense attorney Jim Archibald countered that there was no evidence tying his client to the killings, but plenty showing she was a loving, protective mother whose life took a sharp turn when she met her fifth husband, Chad Daybell, and fell for the "weird" apocalyptic religious claims of a cult leader. He suggested that Daybell and Vallow Daybell's brother, Alex Cox, were responsible for the deaths.
Daybell told her they had been married in several previous lives and she was a "sexual goddess" who was supposed to help him save the world by gathering 144,000 followers so Jesus could return, Archibald said.
At times, the testimony in the case has been heartbreaking — such as when Vallow Daybell's only surviving child, Colby Ryan, accused her of murdering his siblings in a recorded jailhouse phone call.
Other testimony has been strange, such as when Vallow Daybell's former friend Melanie Gibb testified that Vallow Daybell believed people in her life had been taken over by evil spirits and turned into "zombies" — including JJ and Tylee. Four of the people the defendant described as "zombies" were later killed or shot at, according to the testimony.
It has also been gruesome, such as when law enforcement officers testified about finding JJ and Tylee's remains buried in Chad Daybell's yard.
"Tylee's body was burned beyond recognition. Her body was dismembered in such a grotesque and extreme manner," that the medical examiner couldn't determine the cause of death, Wood said.
"JJ Vallow's voice was silenced forever by a strip of duct tape over his mouth," Wood said. "A white plastic bag was placed over his head, and secured with duct tape around and around from his forehead to his chin."
Tammy Daybell's death was first reported as being from natural causes, after Chad Daybell told authorities she died in her sleep and had recently been coughing, vomiting and suffering occasional shaking fits. Investigators grew suspicious when Chad Daybell married Vallow Daybell just two weeks later, and eventually they had Tammy Daybell's remains exhumed. An autopsy showed she was asphyxiated.
The case began in July 2019, when Vallow Daybell's then-husband, Charles Vallow, was shot and killed by her brother, Alex Cox, at his home in a Phoenix suburb. The husband and wife were estranged, and Cox told police he acted in self defense. He was never charged in the case and died later that year of what authorities determined were natural causes.
Vallow Daybell was already in a relationship with Chad Daybell, and so moved to Idaho with her kids and brother to be closer to him.
The children were last seen alive in September of 2019. Police discovered they were missing a month later after an extended family member became worried. Their bodies were found the following summer.