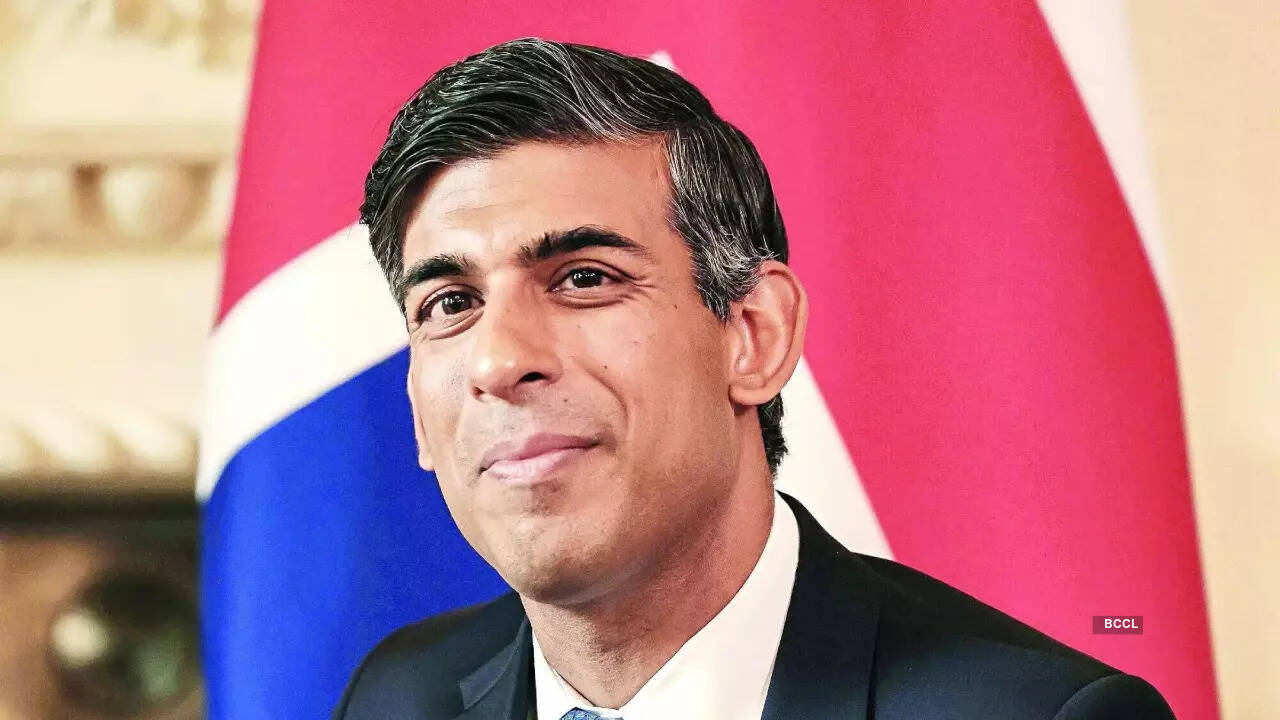 Much of Westminster sniggered earlier this month when Rishi Sunak branded Keir Starmer "Captain Hindsight." But the meme-ready moniker gives away more than a little about the
UK
prime minister's plan to save his job: Don't look back. Barrel ahead. Hope for the best.
Painting the Labour leader as backward-looking and opportunistic was among the tactics discussed this month during high-level strategy meetings at Conservative Party headquarters, according to people briefed on the deliberations. The idea is to draw a contrast between Sunak, 43, and his 61-year-old rival, while attempting to wave away efforts to blame the premier for the Tories' record on public services and the economy.
Dredging up Sunak's decisions to put off school repairs? Twenty-20 hindsight. Seizing on a terrorism suspect's escape to raise questions about prison funding? An attempt to score cheap points. "This is exactly the kind of political opportunism that we've come to expect from Captain Hindsight over here," Sunak shot at Starmer in the House of Commons this month.
Sunak's strategists believe that getting voters to focus on who's best-placed to lead Britain over the next five to 10 years is their best hope for avoiding a defeat in an election expected to be held in November 2024. The aim is to portray Sunak as more positive, dynamic and ambitious, better equipped to address new challenges such as the switch to electric vehicles and the rise of AI, the people said.
To that end, Sunak and his top political aides have been focused on crafting bolder policy proposals to roll out in the coming weeks, designed to present a forward-looking vision for voters. The hope is that the strategy will reinforce a common criticism of Starmer, that he's cautious and uninspiring, and chip away at Labour's roughly 20-point lead in the polls.
Sunak's aides have drawn encouragement from the analysis of James Johnson, co-founder of pollster JL Partners, who has seen negative views of Starmer come up in focus groups of key voters in recent weeks.
"Two factors mean that, though it is clearly Advantage Labour at the moment, the next election is still up for grabs," said Johnson, a former aide to ex-premier Theresa May. "One, the extreme volatility of the electorate, which is more likely to change its mind than ever before. Two, the fact that Starmer is still viewed miserably by the swing voters that matter most."
Strategic Shift
This requires a strategic shift by Sunak's team, who had largely seen their job as mitigating the scale of an inevitable defeat since taking over after former Prime Minister Liz Truss's brief and chaotic tenure almost a year ago. Since then, Sunak has largely stuck to his so-called five pledges — including halving inflation and growing the economy — and resisted calls for a broader vision.
Now, some inside No. 10 are arguing that they need a bigger strategy to win. One official said they were clear-eyed that the odds favored Labour, but argued that the realm of possibility included a surprise victory and not just a respectable loss.
The challenge with this blue-skies plan is that assumes it can counteract the electorate's desire for change after 13 years of Conservative rule. The party lost more than 1,000 seats local elections in May and was defeated in two bellwhether parliamentary contests in July, even it narrowly held the former seat of ex-Prime Minister Boris Johnson.
Starmer, meanwhile, increasingly looks like a prime minister-in-waiting, visiting The Hague this week to tout his border-control plans and planning to meet French President Emmanuel Macron at the Élysée Palace in the coming days. Labour's poll lead widened to 22 points this week, according to the polling firm YouGov.
Each week seems to bring more reminders of how public services have declined in recent years, including Sunak's more than two-year tenure running the Treasury. The government's decision to close more than 100 schools over overdue efforts to replace a weak type of concrete popular in the 1960s and 1970s seemed tailor-made for Labour's efforts to charge Sunak with neglect.
During their weekly face-off in parliament, Starmer countered that Sunak was "inaction man." "Every week, whatever the topic, the prime minister paints this picture as if everything is great and fine out there. It is so at odds with the lived experience in the real world," Starmer said.
Downing Street aides want to make the Sunak-Starmer showdown a personality-driven presidential contest. They say the public has yet to see Sunak's best qualities and hope his speech at the Conservative conference in October could provide a breakthrough moment. They're hoping an economic turnaround next year could provide Britons some relief just before they head to the polls.
Too Cautious
Starmer could face his own challenges if he attempts to counter criticism that he's too cautious by detailing how he would handle controversial issues. He got of taste of that this week as right-leaning newspapers criticized Starmer's plans to cut migration across the English Channel.
Still, some of Sunak's own planned policy moves — such as potentially scaling back the planned HS2 high-speed railway to Manchester — risk further alienating voters. And it's difficult to tell voters to not look back when long-festering problems keep interrupting their daily lives.
John McTernan, a political strategist and former adviser to ex-Labour Prime Minister Tony Blair and Australian Premier Julia Gillard, said the prime minister had his chance to make a clean break with his predecessors' policies.
"Sunak's problem is that you only get one chance to make a first impression," McTernan said.