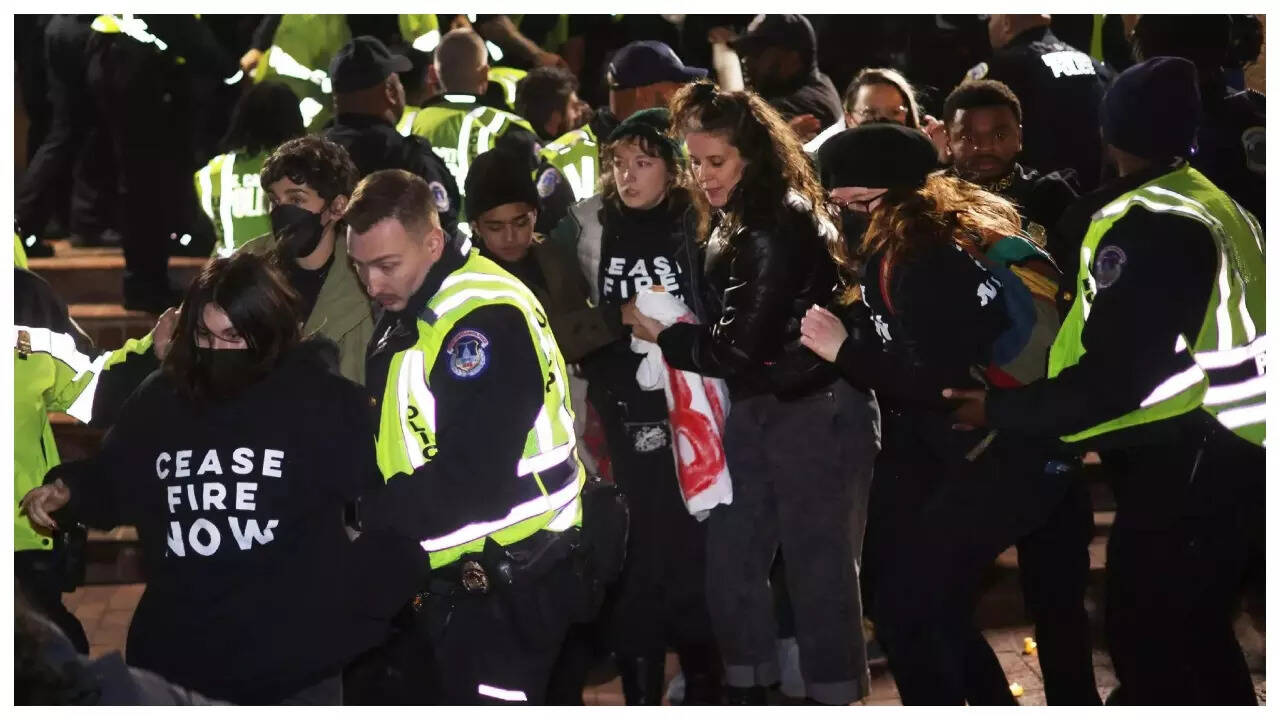 NEW DELHI: A pro-Palestine demonstration outside the Democratic National Committee (DNC) headquarters in Washington DC escalated into violence, leading to several arrests. The protest, initially calling for a ceasefire in the Israel-Gaza conflict, quickly turned chaotic as around 150 activists converged on the building on Wednesday night.
Shocking footage from the scene captured the intensity of the clash, with police struggling to control the crowd.Protesters were seen chanting "let Gaza live," while one woman was recorded screaming: "F*** you b****" at an officer, a Daily Mail report said.
The Capitol Police have advised the public to stay away from the area, describing the protests as "violent and illegal." A statement from the police detailed their efforts to manage the situation: "Right now our officers are working to keep back approximately 150 people who are illegally and violently protesting in the area of Canal Street and Ivy Street, SE. Officers are making arrests. All Members have been evacuated from the area. Please stay away from the area."
Videos from the event show protesters clashing with police, with some being led away in handcuffs and others being dragged from the scene. An attendee claimed that the police were "shoving" people down the stairs during the confrontation.
The protest, which began as a candlelit vigil organized by Jewish Voice for Peace and If Not Now, intended to lay out 11,000 candles to represent the death toll in Gaza. However, it soon spiraled out of control, forcing police to establish a perimeter around the protest.
In response to the police action, Jewish Voice for Peace said: "Within moments tonight in Washington DC, police violently assaulted peaceful anti-war protestors calling for a ceasefire. This is the response from the US government to those of us calling for the protection and preciousness of Palestinian lives. We won't back down!"
The clashes Wednesday evening are the latest example of roiling tensions over the war between Israel and Hamas.
President Joe Biden has been under increasing pressure from the Democratic Party's left flank over his support for Israel's military operation, including interruptions from protesters at his speeches. He has resisted calls for a cease-fire, instead saying there should be pauses in the fighting to facilitate the delivery of humanitarian assistance and the potential extraction of hostages.
Last week, a large number of House Democrats joined nearly all Republicans in voting to censure Rep. Rashida Tlaib, the only Palestinian American in Congress, over her criticism of the Israeli government's treatment of Palestinians. Tlaib, who has family in the West Bank, came under heavy criticism after she failed to immediately condemn Hamas after the attack. She has since called out the terrorist group while also calling for a ceasefire.
The Metropolitan Police Department said its officers also responded to the disturbance. Officials sent an alert to congressional staffers telling them no one would be permitted to enter or exit any House office buildings.
(With inputs from agencies)