For 28-year old Japanese YouTuber Mayo, a love for the Hindi language was passed on by her father. While she had never visited India herself, her father – who went climbing in the Himalayas – often came back with stories from the country. "It was my father who convinced me to study Hindi," says Mayo, who went on to major in the language at Osaka University. She also spent a year in Delhi to polish her command over the language, and after returning to Japan, started creating content in Hindi. With 3 million subscribers on YouTube, her videos put the spotlight on the many aspects of Indian life, from a shopping trip to the Lajpat Nagar market to a guide on how to make pav bhaji. Mayo is one of the many foreign creators today who've taken up posting content in Indian languages. It's no surprise why: 759 million citizens or over 50% of India's population are active internet users, as per data by industry body IAMAI and market data analytics firm Kantar. It also has the world's biggest user base of social media platforms. In other words, it's a goldmine for content creators looking for eyeballs.
"India has a huge audience. They know that if it blows up here, it blows up big," says Charlie, a South Korean creator who goes by the name of '40Kahani' online. Viral for his Hindi and Bhojpuri speaking skills, Charlie has gained nearly 1.4 lakh followers across platforms. In a viral video titled 'Do Bihari Sab Pe Bhari', Charlie collaborated with American creator Drew Hicks, both speaking fluent Bhojpuri. One viewer commented, "My brain is finding it a bit weird to process it. Two foreigners, blogging in Indian language, in a foreign land, that too in a perfect desi accent. India has truly gone global." Unlike Mayo, Charlie has spent many years in India. He came to the country as a one-year-old along with his father who was undertaking ground research for his PhD in Patna. While the trajectory of life first took him to the US, and now back home to South Korea, Charlie still considers Hindi as his mother tongue along with Korean. "For a lot of Koreans, it's a lot easier to learn and speak Hindi than English. Their grammar and sentence structures are similar," he adds. As a result, there's a lot more content related to India and Hindi coming from Korea today than ever before. 'Korean reactions to Bollywood' and travel vlogs that document India are getting increasingly popular.
For American Aparna Mulberry, Malayalam is not only the language in which she makes Instagram reels, but the one she feels a spiritual closeness to. After all, she stayed for 12 years with her parents in Kerala, at the Amritapuri Ashram. That's where she got her name too. At the age of 15, she moved to the US to pursue her higher studies. However, the love for India and Malayalam only grew stronger. During the Covid pandemic, she started creating one-minute long videos to practice the language. As the page started growing, she also began teaching a Malayalam-to-English course, which became immensely popular. Malayalis living in the West, foreigners married to Malayalis, and those interested in spirituality form a large chunk of her students. She was also invited to the Malayalam edition of the reality TV show Bigg Boss. "I don't know why youngsters are embarrassed to speak their mother tongue today. I always tell them to be proud of it and carry it wherever they go," she says.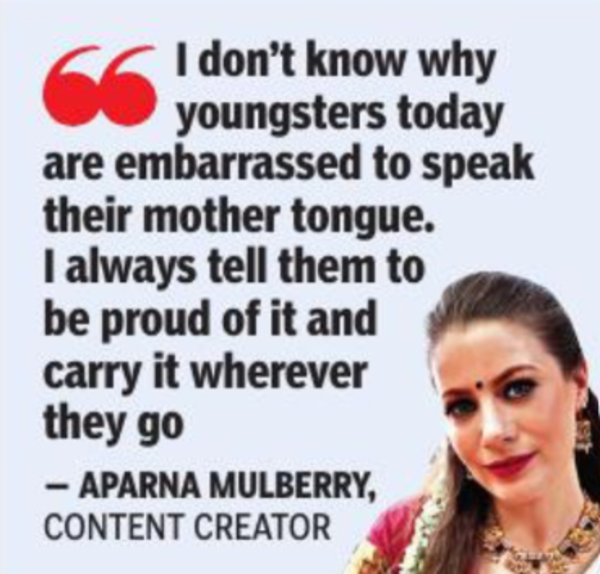 Foreign content creators are also using their knowledge of local lingo to increase cross-cultural understanding, and even fight racist misconceptions at times. Nigeria's Agu Stanley, a pharmacy student at Amity University, is the internet's new favourite comedian, having amassed more than 3 lakh followers on Instagram. Through humour, he often addresses those who troll him for his skin colour and have other racial biases. Learning Hindi, Stanley says, was a deliberate decision in order to connect to the local people. "When I came here, there were a couple of Nigerians around me, but despite studying here for 3-4 years, they hadn't learnt Hindi," he says. While he never took formal Hindi classes, he relied on learning from his Indian friends, and picking up phrases in conversations. That explains the use of slang and local idioms in his videos, along with references from Bollywood and Bhojpuri films. In one of his most popular videos, he pronounces words such as Maggi, chocolate, and biscuit in an "UP accent". In another, he fluently sings the popular Mohammed Rafi song 'Hum kaale hain toh kya hua dilwaale hain'. Mayo has not only started making videos teaching Hindi grammar to Japanese people but also to highlight Indian films. "Films like 'Baahubali' and 'RRR' are big in Japan. However, a push is needed for other kinds of cinema, such as Sanjay Leela Bhansali's films. I am happy to do my part," she says. She has uploaded multiple videos that showcase this love – whether it's thumka-ing like Alia Bhat in 'Rocky aur Rani' or dancing to Arijit Singh's song on the streets of Tokyo.