Washington, D.C., police officers announced that a black bear was tranquilized and captured after wandering through a local neighborhood Friday.
Metropolitan Police Department officials initially warned the public about the bear sighting shortly before 7:30 a.m. Friday. 
Police reported that there were road closures due to a large black bear.
The animal was spotted by residents around Franklin Street in northeast D.C. 
According to FOX 5 DC, the bear sighting drew crowds, and the animal had been there for several hours.
Authorities advised residents to stay indoors while the animal was rambling through backyards.
CONNECTICUT FAMILY FINDS BLACK BEAR HIBERNATING UNDER THEIR OUTDOOR DECK: 'NOT BOTHERING US'
"The bear climbed down from the tree and is running in the backyards of homes in the 1300 block of Franklin Street, Northeast," MPD tweeted. "If you are resident in the block, please stay inside."
Pictures from the scene show the bear sitting on top of a tree before crawling back down. 
'LAW-ABIDING' BEAR CROSSES STREET LIKE A PRO IN NORTH CAROLINA, VIDEO SHOWS
Officials later confirmed the capture of the animal, reporting that the bear was tranquilized with veterinarians on the scene. The bear was loaded into a large crate and transported away in a truck, according to FOX 5.
Police said the Human Rescue Alliance and a Smithsonian's National Zoo veterinarian were on the scene, as well as the Maryland Department of Natural Resources.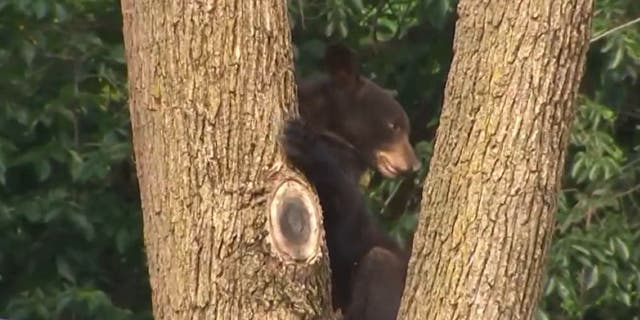 CLICK HERE TO GET THE FOX NEWS APP
Fox News Digital reached out to MPD for more information, but no new details are available.