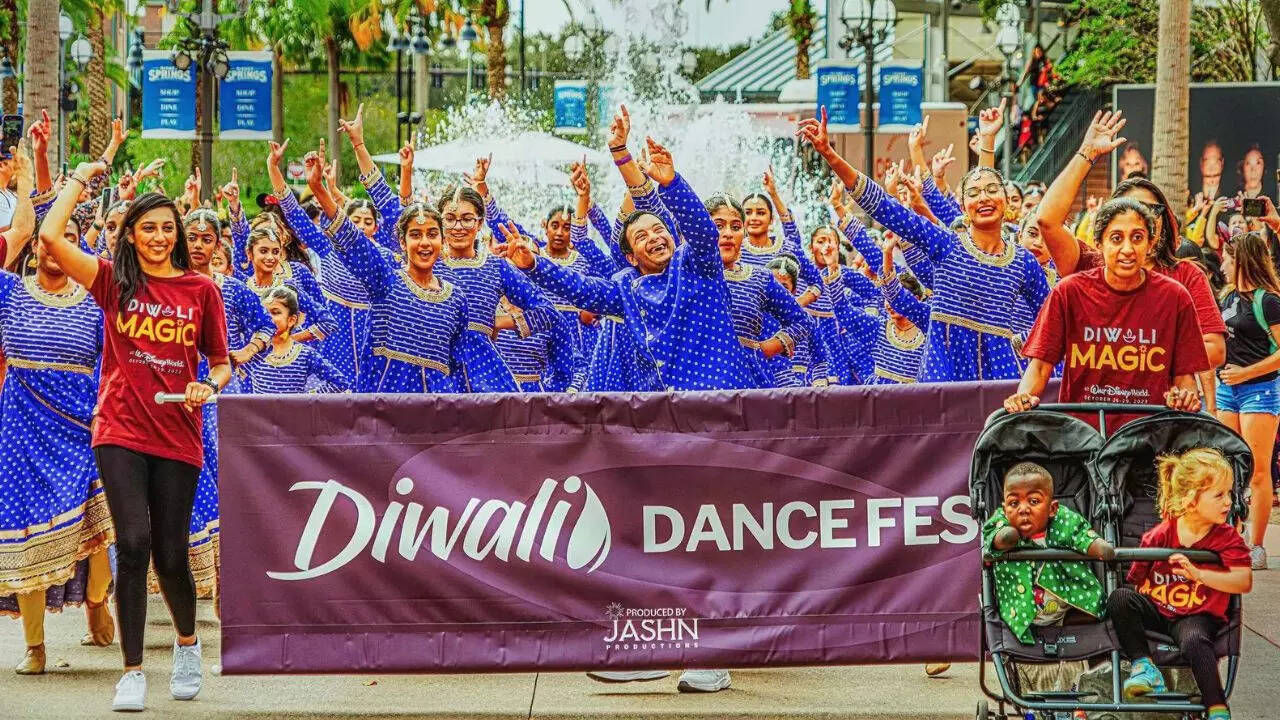 NEW DELHI: Diwali celebrations were held at Walt Disney World Resort in Florida for the first time ever. Hundreds of dancers from various parts of the United States came together to share the rich Indian culture through their dance performances, marking the festival of lights for an international audience at this renowned American destination, as reported by PTI.
Jashn Productions organized the inaugural Youth Celebration of Diwali, where more than 400 dancers celebrated this festival through their dance performances at Disney Springs and Disney's Animal Kingdom Theme Park, as stated in a press release.
The festival took place from October 26 to October 28, featuring colorful costumes, and dance performances by artists from across North America.
The event started with an official parade in which dancers presented a well-choreographed 20-minute performance as they made their way through the streets of Disney Springs.
The Dance Fest Showcase, which occurred at Disney's Animal Kingdom Theme Park, featured 17 dance schools presenting performances representing different regions of India, such as Punjab, Gujarat, and Andhra Pradesh incorporating elements of pop and hip-hop.
Jeanie Beri, founder of Jashn Productions, led the direction of The Dance Fest. She said, "Bringing Diwali to Walt Disney World Resort for the first time ever was so exhilarating. We created history by sharing the joy and excitement of this important festival with the South Asian dance community. Celebrating the magic of Diwali in 'The Most Magical Place on Earth' was truly a dream come true."
Beri expressed her enthusiasm for organizing future events to celebrate the diverse culture of South Asia, following the success of the Diwali Dance Fest.
The Diwali Dance Fest was a unique celebration, allowing children the chance to display their talents on a globally recognized platform, as mentioned in the press release. More than 1,000 guests had the opportunity to immerse themselves in the visual and auditory splendor of Diwali, as the famous Disney park came alive with the sounds of Indian music and vibrant, colorful costumes.
The event also featured the popular Disney characters like Mickey Mouse and Minnie Mouse, who were joined by specially-abled children for the opening. Additionally, Jashn Productions made a donation of $10,000 to the N-Lorem Foundation, dedicated to creating and supplying personalized experimental medicines free of cost to patients with nano-rare conditions.
California-based ICC Bollywood directors Amit and Hiren said in the press release, "The Showcase was not just a celebration of a cultural tradition but a representation of unity and the power of art to bridge gaps and bring people together".